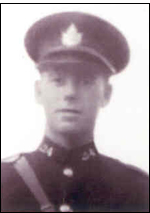 Constable
Ernest Paul
Copper Cliff Police
May 28th, 1955
Age: 40 / 12 years service
Ernest Paul was Married with 3 Children.
---
At approximately 0130 hours May 28, 1955 Constable Paul was seated in the Inco Hotel talking to the night cook. A 22 year old deranged miner entered and began firing a .22 caliber revolver at the officer point blank, killing Constable Paul.
---
The youth subsequently shot and wounded two civilians and died shortly after being taken to the hospital with a self-inflicted head wound.