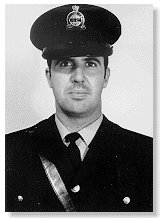 Constable
Leonard G. Slater
North Bay Police
December 1st, 1973
Age: 32 / 5 years service plus 4 years OPP service
Leonard G. Slater was married with 3 children.
---
On December 1, 1973 at approximately 2227 hours Constable Slater responded to a call for assistance from a fellow officer who had been shot. On arriving at the scene, a parking lot, Constable Slater got out of his cruiser, moved to the edge of the street and was shot in the back of the head by a gunman who was hiding among the parked cars.
---
On April 20, 1974 Carmille Joseph Ethier, age 24, was convicted of non-capital murder for the slaying of Constable Slater and received a sentence of life imprisonment.