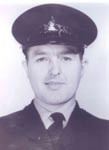 Constable
Dennis J. Winstanley
Stamford Township Police
February 3rd, 1962
Age: 30 / 4 years service
Dennis J. Winstanley was Married with 2 Children.
---
Constable Winstanley, while on cruiser patrol, had stopped a vehicle on Garner Road in the City of Niagara Falls. While standing beside the cruiser interviewing the driver of the stopped vehicle he was hit by an impaired driver. The latter fled the scene but was apprehended later by alert fellow officers.
---
William Stanley Ingram was arrested, charged and convicted of the following offences: criminal negligence - 9 months; fail to remain - 3 months conc.; driving while impaired - 9 months concecutive.