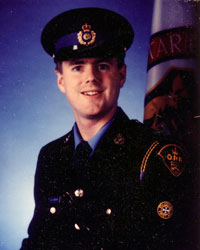 Constable
Andrew B. Gordon
OPP ~ Madoc Detachment
May 3rd, 1992
Age: 29 / 5 years of service.
---
PC Gordon accompanied by Constable Larry Yuen were operating a marked cruiser on Highway 62 approximately 20 kilometers north of Madoc. The officers were enroute to the Village of Marmora to investigate a minor hit and run accident. A northbound vehicle traveling an estimated speed of 130 km/h suddenly veered into the southbound lane and struck the cruiser. Constable Gordon was fatally injured. Constable Yuen received serious injuries but survived. Both occupants of the northbound vehicle were killed.
---
Investigation revealed that the driver of the northbound vehicle was impaired.