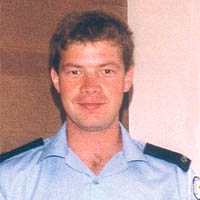 Detective Constable
William D. J. Hancox
Toronto Police
August 4th, 1998
Age: 32 / 9 years service
William D. J. Hancox was Married with 1 Child.
---
Officer Hancox, a Detective with the Toronto Police Service was assigned to the Special Investigation Squad, Break and Enter detail. He was working undercover with a team of officers in the north east section of Toronto. At approximately 10 pm he told his fellow team members he was attending a store in the Centennial Plaza to obtain a cold soda pop. A very short time later, a second broadcast was received from Officer Hancox advising that he was stabbed and needed help. Officers attended the plaza parking lot and found Officer Hancox severely injured, lying near his police vehicle. Emergency first aid was applied and the officer was transported to Sunnybrook Medical Center. At 11:01 p.m. Police Officer Hancox succumbed to his injuries.
---
Two women were arrested and have since been convicted.