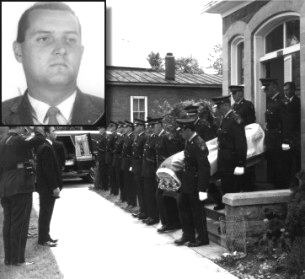 Constable
Peter J. Kirk
OPP ~ Hawkesbury Detachment
June 9th, 1968
Age: 32 / 9 years service
Peter J. Kirk was married with 2 children.
---
PC Kirk was on routine patrol on Highway 11 between Alfred and L'Original. He was in a line of traffic when a eastbound sports car went out of control crossing into the westbound lane. Kirk's cruiser collided with the sports car, overturned and skidded on the highway. He was crushed by the roof.
---
The driver of the sports car was ejected through the convertible roof and survived.