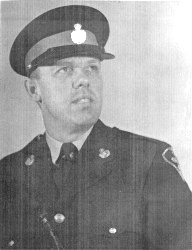 Constable
Clare L. Lackey
OPP ~ Little Current Detachment
July 16th, 1972
Age: 41 / 6 years service
Clare L. Lackey was Married with 5 Children.
---
Constable Lackey and Constable Nelson LeBrun were returning from West Bay Indian Reserve after quieting a domestic dispute. While traveling on Highway 540 an oncoming vehicle struck them head on. LeBrun used a shovel from the cruiser trunk as a crutch to walk to the nearest telephone. Constable Lackey and the driver of the other vehicle were pronounced dead at the scene.
---
Evidence supported the fact that the driver of the other vehicle was impaired at the time of the accident.